About
As you may have gathered from the title of this web site, if you do not already know, I am Peter Bargh - a photographer and author of Teach Yourself Digital Photography, Photoshop A to Z and Guide to Great Photography.
Photography is my passion and I also enjoy music. I ran a publishing company - Magezine Publishing, which produces the highly successful online photography magazine, ePHOTOzine. I retired from this project in 2014.
Sight reflects my obsession of photography, while Sound is all about my musical tastes and passion for creating music. This web site is an insight into my world including full biographical details, various galleries of my photographs, the music I like and a discography of my favourite musicians. I hope you enjoy.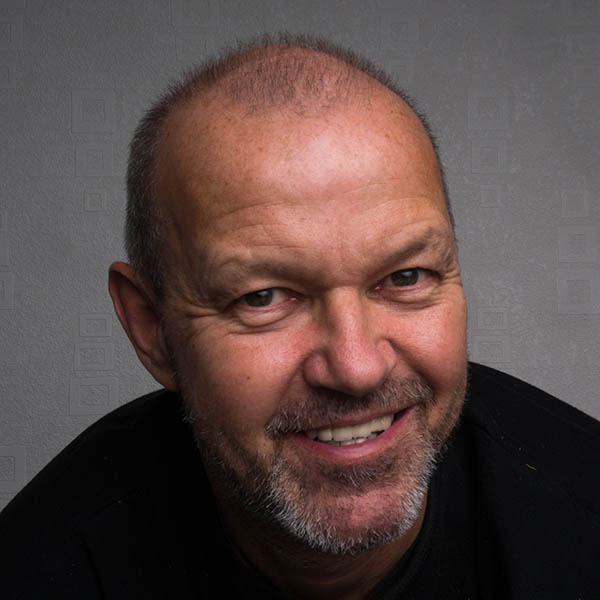 Photographer, Writer, Designer & Musican.
I can turn my hand to most things having skills in photography, creating music, writing, editing, publishing, web development and design. I can also make a decent curry and have the necessary carpentry skills to make a spice rack or lay garden decking.
Birthday:

19 July 1961

Website:

www.peterbargh.com

Phone:

+private+

City:

Sheffield, England
Age:

62

Degree:

Master

Email:
Freelance:

Maybe...contact me
I was born in Sheffield and spent my childhood making dens and roaming around the Rivelin and Loxely valleys. I married and moved away to Peterborough in the 80s and after 10 years dropped in on Norwich for six months and then a stint of several years in Worksop, before returning to my favoured location of Sheffield. As a lover of music the city is great for gigs and, as a rambler, the Peak District is right on my doorstep.
Facts
I've been taking photographs since I was 14. Most of the early stuff is on print or transparency film and the time it would take to convert to digital is ridiculous so it will probably remain stored unseen. My digital photography is catalogued in Lightroom - 148914 photos at the time of writing. I'm often asked if I sell photos and can provide just about any subject matter to suit any wall / room colour scheme. Here's a small sample of my work for sale: art.bargh.co.uk
As magazine editor I was fortunate enough to be taken all over the world on press trips, and while retired I've continued exploring countries around the globe. So far I've visited 33 countries, some many times to different regions/ islands.
The countries I've visited that I can recall:
Austria
Bahrain
Belgium
Botswana
China
Croatia
Cyprus
Czech Republic
France
Germany
Greece
Iceland
India
Ireland
Italy
Japan
Luxenburg
Malta
Monaco
Montenegro
Morocco
Netherlands
Poland
Portugal
Spain
Sweden
Switzerland
Thailand
Tunisia
Turkey
United States
Vatican City
Zimbabwe
A list of magazines and newspapers I've had articles and photographs published in:
Amateur Photographer
Black and White Photography
BPI News
Buying Cameras
Classic Boat
Computer Arts
Digital Photo
Digital PhotoFX
EMAP Advantage
ePHOTOzine
Freelance Photography Made Easy
Golf World
HP PhotoWorld
Ilex Press
Jessops Catalogue
Mail, The (Saturday Supplement)
Mailroom
Nikon Owners Club
Nikon Fotoshare
Nikon In Touch
Pentax User
Photo Answers
Pixel
Practical Photography
Photographer, The
Photography Monthly
WHSMITH guide to Photography
Warehouse Express.com
Skills
I tend to class myself as a jack of all trades master of none - intelligent but not intellectual. Generally half full rather than half empty. When I set up my company I learned how to do payroll and the company accounts. I learned how to design a magazine, and taught myself web design / development using css html and php. In retirement I've learned how to cook properly, how to change motor parts like the wiper motor, wire in solar panels on a campervan, build decking for the garden, replace a fuse in a consumer unit, change a double glazing door lock, rewire a guitar, make spice racks and shelves from scratch. I basically love a challenge!
School life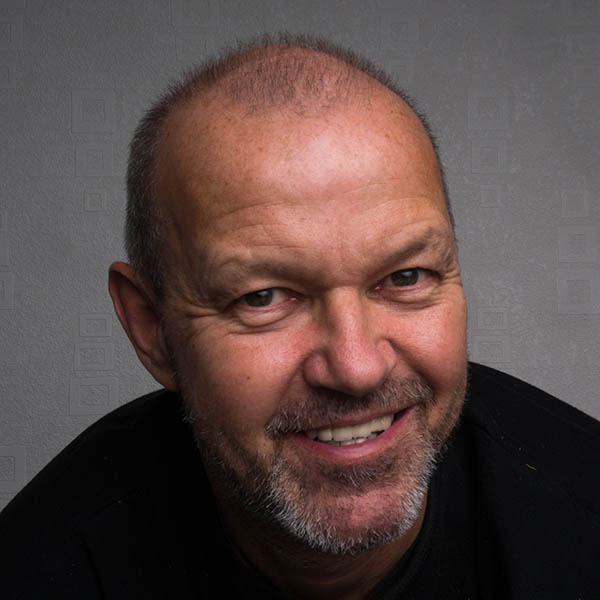 I didn't enjoy school, especially the senior years. I disliked the gym, the random quality of teachers, and I dreading standing up in class to read out aloud. So I retired to the back and kept a low profile, as did the quality of my work! My qualifications from school were disapointing, but thankful as a teen I discovered photography! And as an adult I strived for better things, including improving my Maths and English.
There were a few good aspects to my school years. I had some great friends, In the early years Richard Kangley (bubbles) David Tilbrook (not sure), later on Ian Jennett (got me into photography) and Craig Feetham (music buddy).
School was also my first introduction to becoming an entrepreneur. I bought bags of stamps, sorted them, and stuck them in approval books (Harry Bender Stamp Club) and used the money to buy vinyl and collectors cards (Batman, Monkees, Panini Football, land of Giants, etc).
Education
Secondary Education
1971-1977
Wisewood Comprehensive, Sheffield
Woodwork GCE O-Level grade C
Technical Drawing GCE O-Level grade C
Further education
1979-1980
Granville College, Sheffield
Photography GCE O-Level Grade C
1984-1985
Stannington College, Sheffield
English Language GCE O-Level grade B
Mathematics GCE O-Level grade A
1989-1990
Stradbroke College, Sheffield
City & Guild 923 Photography Distinctions in all 5 modules
1989-1990
Parkwood College, Sheffield
Photography GCE A-Level grade A
1991-2000
EMAP, Peterborough
Wide variety of journalist and management training courses including proof reading and subbing, news writing, cover editing, interviewing and features writing.
Work life
My first job was a saturday job at the Coop on the hifi department. I worked alongside Steve Bannister. We didnt have a phone at home so the job not only gave me the usual work skills but also some simple communication skills I'd not yet developed.
With my new found hifi knowledge, and my love of photography I was able to get a job at Dixons - at the time a quite pushy sales based retailer - we were challenged regularly by the area manager to upsell to him. I stuck this out two years before returning to the coop in the photography department, working alongside Terry Mappin.
Retail doesn't pay well so I used to take portraits (people and pets) and tried my hand at weddings to earn a few extra quid to fund the expensive photography hobby. I also started sending photos to magazines in the hope of publication. A few pictures were published in local papers / supplements, but the photo magazines always returned my work. That was until I included mini articles written to explain how I made the photos. These "techniques" started to catch the eyes of the Editors' of Amateur Photographer magazine and soon I was being published and, more to the point, paid!
When an advert for technical writer appeared in my favourite magazine, Practical Photography, I hastely posted my CV. After three interviews with the Editor William Cheung, I was given the job and quickly worked my way up the ranks to Editor.
It was at a company brainstorm day that I came up with a concept for a digital photograph technique magazine - it would be Europe's first. The company decided to give it a go and I had two months to take the magazine from concept to reality. Digital PhotoFX was a success and paved the way for a whole bunch of copycat magazines.
Not content with a paper based magazine I put forward the idea of a digital version. My publisher wasnt interested so I decided to go it alone and, with backing from friends in the industry, I created what I believe was the world's first full consumer magazine with techniques, buyers' guides, interviews, news and reviews.
Professional Experience
Mangaging Director
October 2000-December 2014
Magezine Publishing Ltd, The Turbine, Shireoaks Triangle Business Park, Coach Close, Shireoaks, S81 8AP.
Responsibility for the publishing strategy of web sites and printed magazines.
Delegated tasks to 9 members of staff and provided guidence on all aspects of the projects.
Identified new revenue opportunities and worked to drive account growth and profitability by creating new revenue streams.
Increased customer satisfaction by improving products based on feedback.
Developed new marketing strategies to quickly capitalize on trends and social media.
Developed and executed business strategies to achieve short and long-term goals.
Oversaw the company's business operations, financial performance, investments, and ventures.
Ensured company policies and legal guidelines were clearly communicated.
Launch Editor, Digital PhotoFX
August 1997 to October 2000
EMAP Apex Choice Publications, Apex House, Oundle Road, Peterborough, PE2 9NP.
Responsibility for the editorial strategy of magazine
Controlled editorial content, planning and budgets
Ensured high quality words and magazine presentation
Controlled production with repro house and printers.
Responsible for managing, training and developing team.
Commissioned freelance writers and photographers.
Subbing and picture research.
Worked closely with publisher, product manager and marketing, research and advertising departments.
Editor, Buying Cameras
January 1994 to August 1997
EMAP Apex Choice Publications, Apex House, Oundle Road, Peterborough, PE2 9NP.
Technical editor, Practical Photography
October 1992 to January 1994
EMAP Apex Choice Publications, Apex House, Oundle Road, Peterborough, PE2 9NP.
Technical writer, Practical Photography
May 1991 to October 1992
EMAP Apex Choice Publications, Apex House, Oundle Road, Peterborough, PE2 9NP.
Assistant manager
April 1985 to May 1991
Jessop Photo Centre, 9 Commercial Street, Sheffield.
Assistant manager, photography dept
June 1979 to April 1985
Sheffield Co-op, Castle House, Angel St, Sheffield.
Sales Assistant, photography dept
May 1977 to June 1979
Dixons, The Moor, Sheffield.
I stepped down as Managing Director of Magezine Publishing in Dec 2014 and now spend my retirement doing the things I love: photography, web developing, travel and creating music. I also play Pokemon Go, Clash of Clans and Candy Crush and bought a campervan.
Portfolio
Over the years I've been commissioned for all kinds of photographic work: weddings, commercial product photography, pet portraits, band promos, insurance jobs, web site illustrations, events etc. Here are examples of a few of the jobs I've enjoyed and the type of photography I love being absorbed in.
All
Commissions
Personal
Documentary
Music
As listening to music was one of my main interests I guess it was natural that I should attempt to play an instrument and join a band. It all started when I realised I could play three blind mice on the recorder.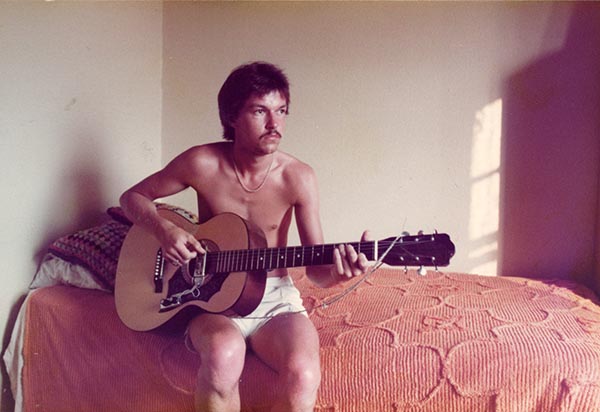 The first attempt to learn to play an instrument occurred when my French teacher, Mr Nortcliffe, put a poster up at school inviting pupils to his guitar lessons through the lunch break. I asked my mum to buy a guitar, and turned up to the class with a spangly new Kay acoustic, delivered just days early via Freemans Mail Order Catalogue. The steel strings were so far from the frets that pushing them down required a week in a gym!
The class had about ten student. I can only remember one...Steve Clarke. He was two years above us in school and, for some reason, was sat on top of a desk at the front of the class. He picked up the guitar and started playing some classical piece; to perfection! It made my Tales of the River Bank, plucked on one string, seem rather amateurish. I left the class, Steve joined a band. That band was Def Leopard. Sadly, Steve died tragically in 1991.
I decided a self-teaching guitar route would be better, but made a real pig's ear of it. I still cannot play the guitar properly! But I did enjoy creating noise so, together with a neighbour, Steven Dale, we created a noise band, both playing guitars aud hitting Quality Street tins for make-shift percussion. The noise was recorded on a small cassette recorder. I still have copies somewhere.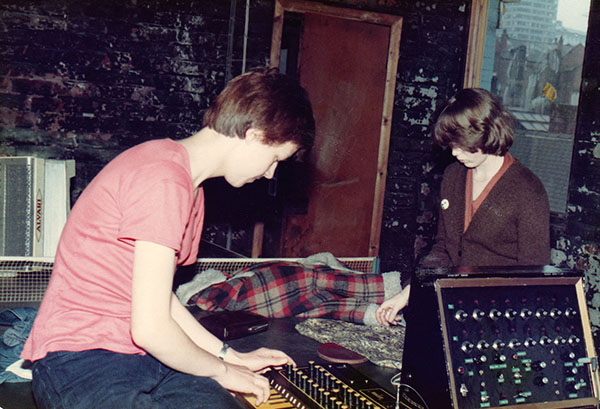 Steven was a bit of a whiz with electronics, so I asked him to build me a sequencer so I could emulate the sounds of Kraftwerk. He created a monster...dozens of LEDs and rotating knobs to control the pitch of bleeps. One for speed and one for volume. I knocked up a case, using my woodwork skills and Hal was born!
I bought a Casio VL-Tone and had many friends join me in jamming sessions, David Horton, Steve Rodgers and Philip Otter are all recorded on tape somewhere.
It was in 1979 that I created a proper band with Mark Holmes. We called the band Mein GlassFabrik (My Glass Factory) and by this time I'd acquired a Wasp synthesizer. I didn't have a lot of spare cash at the time and wanted more versatile sounds so I picked up a Wem Copycat. This echo machine really did change the sounds I could make. Soon after I bought a Moog prodigy synth. It was a wonderful piece of gear with some great sounds.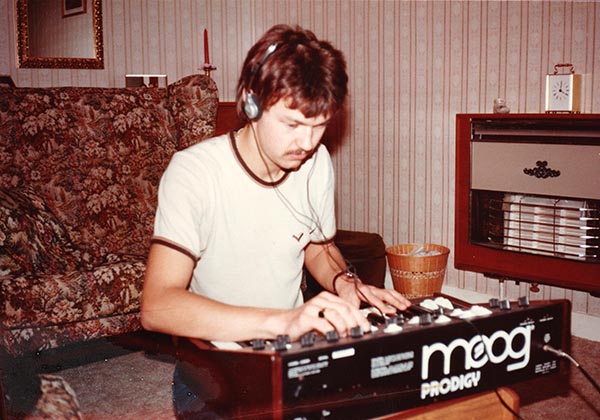 The new gear was used to make industrial style music, influenced by Tangerine Dream, Throbbing Gristle and Cabaret Voltaire. We created a cassette which we sold in Record Collector. It was reviewed in Tigers on the Moor - an indie fanzine magazine.
Mein Glas Fabrik was selected by Cherry Red Records to appear on the 4x CD sheffield compilation:
Dreams To Fill The Vacuum – The Sound Of Sheffield 1978-1988.
And soon after Vinyl on Demand reissued both cassette albums on a deluxe double LP in remastered form
VOD 163
.
I was also creating projects with other friends, forming brief colaberations with Robert and Ray Fitzgibbons and then with Mark Devoto and Roy (can't remember his second name).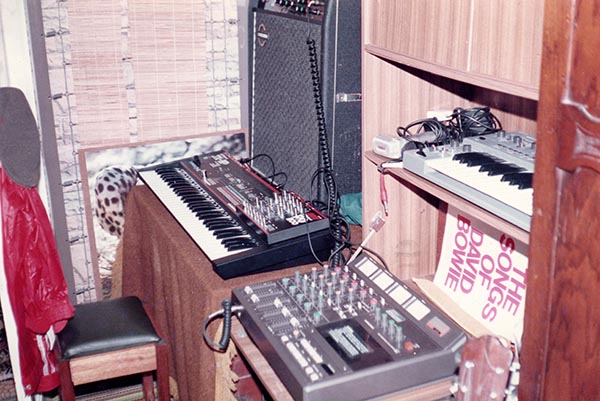 Mark and I also joined forces with the saxophonist from An Alien Heat and did a one-off and unrehearsed gig at the Sheffield University under the An Alien Heat name. Mark went on to create the Fatales and then joined The Anti Group with another school friend, Robert Baker. He's now in a band called Siiii.
I then had a long break from music when I discovered girls where more fun. I returned with a more modern set up of a Roland JV-30 and Cubase on the MAC and dabbled in self-indulgent ambient. A few years later an upgraded to Logic Pro was made, but I rarely got time to create stuff.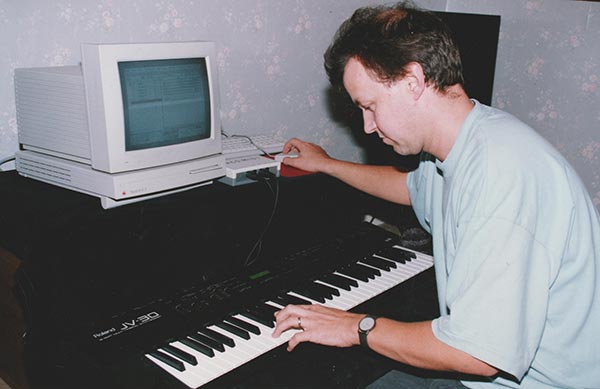 That was until mid 2009 when I decided it was time to get back into things. I upgraded keyboards to a more modern Roland V Synth and formed a band, Flak, with work colleague David Burleson. We rehearsed once every two weeks and finished the first album, The Unbalanced, in June 2010. It's now on sale as a limited edition release - Sound of Flak : The Unbalanced.
Recently I've been putting down lots of ideas in Logic and have bought a selection of modular gear. Some new material will hopefully be released later this year.
Books I've written
I wanted to write a book from an early age, so when I created the Photoshop A to Z I realised one of my dreams. I was one of the early authors to write a digital photography book. Now there are hundreds to choose from. The Guide to Great Photography was the hardest to create - It took two years! But I trust you'll find that the quality is brilliant.
I also presented
The Definitive guide to Digital Photography
video.
Offers the amateur photographer information on what's needed to get started and what you need from a computer, how to create a digital photo, how to manipulate images from beginner to advanced level, and how to save, print, store and display photos.

Teach Yourself Digital Photography
Hodder & Stoughton 2000
Offers the amateur photographer information on what's needed to get started and what you need from a computer, how to create a digital photo, how to manipulate images from beginner to advanced level, and how to save, print, store and display photos.

Teach Yourself Digital Photography
Hodder & Stoughton 2003
There are stacks of guide books on Photoshop and I'd feared this would be another that is useful but impossible to navigate. The reality was a pleasant surprise, with the author honestly appraising some of the more esoteric features. The A-Z format is handy and the pictures, by and large, very useful.

Photoshop A to Z 5.5
Focal Press, 2000
Quick, easy reference text - a must-have purchase for every Photoshop user. It's one of a kind - giving an easily accessible visual guide to all vital Photoshop terms. Keep it next to your computer screen. It is a constant reference that will save you hours of frustration when the meaning of that term is on the tip of your tongue.

Photoshop A to Z 6
Focal Press, 2001
The book provides a visual representation of various features within Photoshop accompanied by succinct, punchy text, which enables you to learn fast and efficiently. Whilst many Photoshop books are tomes difficult to read and understand, this book, with its easy and intuitive layout makes learning a breeze.

Photoshop A to Z 7.0
Focal Press, 2002
Bestselling, easy reference text to Photoshop tools, menus and features. A must-have purchase for all Photoshop users: students, professionals and amateurs, giving an easily accessible visual guide to all those vital Photoshop terms. .

Photoshop A to Z CS
Focal Press, 2004
Presents hundreds of truly amazing images, along with the secrets behind their creation. Prepare to be stunned, inspired and provoked. It's much more than just a showcase of great images though. Inside, you will find a wealth of useful tips to help you take better photographs, along with step-by-step guides to advanced photographic techniques..

The Guide to Great Photography
Magezine Publishing, 2006
Contact
If you want to ask a question, ask for help with a project, buy some photography art or give me any feedback please get in touch. I usually respond same day.